Apologies on the lack of updates in the game and tab space, but I've been busy. I'm currently finishing up the first version of the newly designed armor, and trying to get it done for AAC – hopefully I can make it, as I love AAC. I'll be there with the Nerdfit crew, and we'll also be heading to Alternicon in Boston sometime in November.
But minor stuff aside – HOLY CRAP Boston FIG. We had entered for their showcase a few months back after missing another contest, but not only did we advance but we got to go to the showcase, and if I have one complaint about that – it's that I was too busy to check out anything outside of our table (I the video game developer/major didn't even see a video game)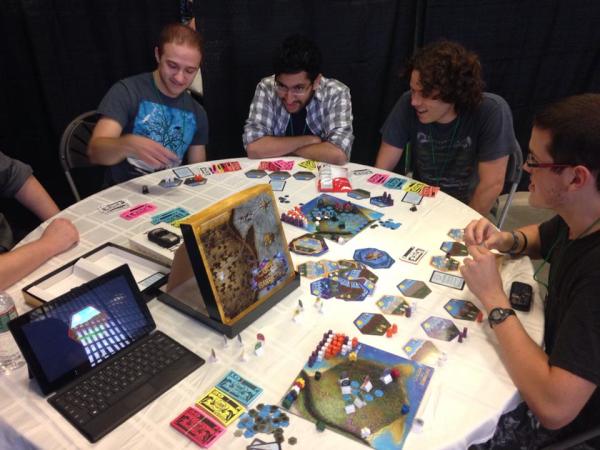 We had some great playtesting and feedback – and while I've done various playtesting amongst groups of people – it's a far different environment than a quiet sit-down, and if anything I prefer it. You really figure out what of your game you can say to draw them in more, and what parts you don't need to have because if it's too hard to explain when they can just as easily pick up and leave – you really get down into what you need to do for your game.
Another thing which my compatriot was beaming about was how much the art was complemented (we didn't get the Figgy award, but then we didn't have a sign up thing/code/any real sort of planning (we actually had to rush to get a tablecloth), but it was enough that both of us are excited to bring something next year which means good for me because I was afraid I wouldn't be able to steal Chris away from his animations to do my tabletop art.
There's some changes to the game that we'll be doing based on feedback, and some others things we wanted to add, but stay tuned. I also have an email list so feel free to email jernandrews@gmail.com to be added for when the game is released (although it'll be here too)