Ugh. I'll be honest with you kids, I damn forgot about the new season. My life has been hectic and anime as usual is the lowest of priorities. I am a bit behind on last season, and now I have to contend with this shit. I'm not gonna lie it's getting harder and harder to do this shit ever season. Mostly because my liver isn't able to withstand the pure hatred for anime that now consumes me.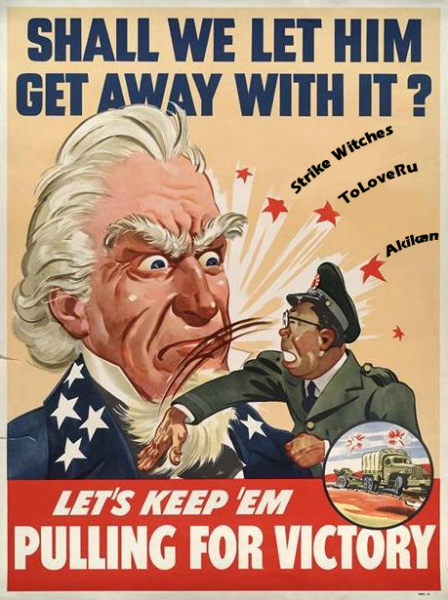 Especially with today being America's birthday I get to have a nice grilled food, see some fireworks, drink some beer – and then watch this shit in the hopes that something this season is good enough to stave off my depression hangover from when I quit anime forever and realize how much of my life has been wasted on it. Anyway kids if as usual you are looking for terrible jokes, a lot of pain and anger, and a reviewer who doesn't suck from the royal cock and complement the jism – than you're in the right place.
No real changes to the format this season. So like I'll be updating daily filling in new shows. I'll have a list at the bottom of shows not aired, and check back every couple of days to see what my opinion/ADHD summary is. (Note: Once again all images from AniList.co) Updates in Bold.
If you want more timely updates, and other shit on anime go to ifuckenhate.moe for more.
+++++++++++++++++++++++++++++++++++++++++++++++
Name: Akagami no Shirayuki-hime (Bones)
Subtitle: The "Seriously is no one going to burn the witch?" anime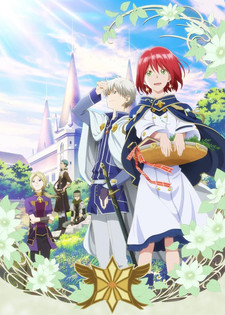 Initial Thoughts: show
Summary: Oh my gawd this is dumb, that is not a mirror and did you expect it to be you. Odd how a rare red head isn't seen as a witch. Wait she is a witch. Come be my bitch? FUCKEN WITCHCRAFT. That bird ate your shit. BITCH! You hair is white muthafucka. No that logic sucks. It's poison. This guy. Bitch. PHOENIX WRIGHT OBJECTION. How was that not a second poison
Review: Nope, too bored, tried to write this 3 times and I just collapse in my chair because the words have already been said too many times of just how terrible this kinda shit is.
Date Added: 07/07/15
+++++++++++++++++++++++++++++++++++++++++++++++
Name: Aoharu x Kikanjuu (Brains Base)
Subtitle: The "Listen the guns are not real, but she broke a table for real." anime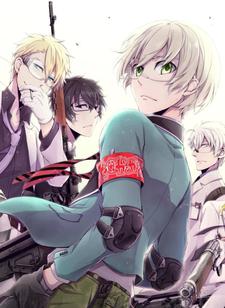 Initial Thoughts: show
Summary: This is the one with the tomboy crossdresser right? RKO OUT OF NOWHERE! #itsagirl. Oh fuck it's a gun. HE HAS A GUN HE HAS THE POWER. What is this Ouran Host Club? OMG whatever. FUCKEN GUNS. OH SHI- Bluh. Pick the P90! Goggles for safety. uhh it's not a he? DERP. Sigh.
Review: Imagine Ouran Host Club but instead of comedy have airsoft guns. Oh great instead of a simple work thing to pay off a vase let's have this dom/sub shit that anime really shouldn't be allowed to get away with how terrible a relationship these always are.
Date Added: 07/05/15
+++++++++++++++++++++++++++++++++++++++++++++++
Name: Aquarion Logos (Satelight)
Subtitle: The "Seriously we did not need more of this" anime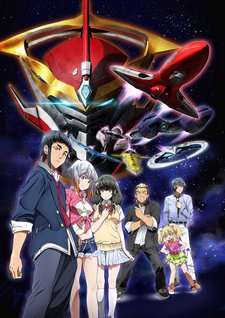 Initial Thoughts: show
Summary: SINGING! This ain't no musical. Wait this is an actual sequel? ALLEY-OOP! So I just found out this is 50 minutes long, and folks I am quitting halfway (hell I might quit even earlier) #Sigh. All this shit about smelling shit. Ugh I don't care. Tired of their shit as much as I am. CROSS COUNTER. Oh my god who cares. That's gross and possibly pedophilia. And this is near rape. God this anime is gay. HOLY SHIT. Child molester. And as promised, I quit. there's even credits fags.
Review: I watched the whole previous series of this? God either I used to be able to drink more, or I was really a gluten for punishment.
Date Added: 07/07/15
+++++++++++++++++++++++++++++++++++++++++++++++
Name: Bikini Warriors (Feel)
Subtitle: The "You do realize mages are not warriors right?" anime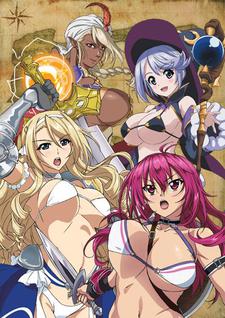 Initial Thoughts: show
Summary: Thank god it's only 4 min- goddamit even that is too long. Panning shots the anime. SIIIIGGGGGGGGGGGGGGHHHHHHHHHHH. Worst armor salesman. The armor works – is this a scam. This is way more than 4 minutes, it's so painful.
Review: I honestly do not understand how anyone who in earnest watches this show lives with themselves.
Date Added: 07/08/15
+++++++++++++++++++++++++++++++++++++++++++++++
Name: Chaos Dragon: Sekiryuu Sen'eki (Silver Link)
Subtitle: The "Why do dragons never actually eat or burninate people?" anime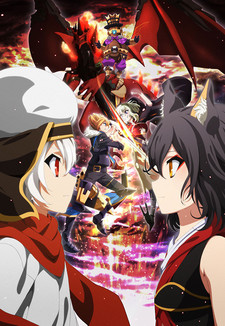 Initial Thoughts: show
Summary: So bored already. Nice hat, you keeping popcorn in there. Oh my gawd bored. Ow. You are totally raping that little boy. Damn anime. I attack the darkness. Did he just say fuck you? Fashion critiques from the peanut gallery. You just can't walk around like a super saiyan. Yo hat chick are you popcorn kids mom? The logical fallacies, I don't care. BLOOD! OW. Ded. Stab her! Fucken fallout bullshit.
Review: There was not a single second of this anime where I was not a strange combination of bored, annoyed, and angry. If you like this show, genuinely like this show – you are not only a bad person draining on the humanity of earthlings – you deserve to be shot into the vacuum of space, put on a space station, and then have someone blow that space station up.
Date Added: 07/07/15
+++++++++++++++++++++++++++++++++++++++++++++++
Name: Charlotte (P.A. Works)
Subtitle: The "That salute was the shining moment of this season." anime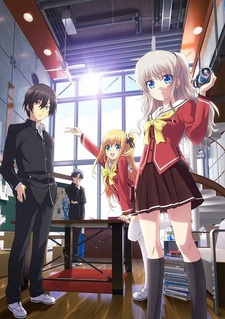 Initial Thoughts: show
Summary: Oh so he can change bodies. FUCKEN GEASS. You fucken evil. He can't contain his evil grin. Pack of lies. Not cool dude. Smooth. SALUTE! Here it comes. Ha eat shit! HI! RUN AWAY! RUN AWAY! Super powers! Surprise BUTTSEX! Btw I turn invisible. Fucken smartphones making plot holes in anime easier. This character is way too energetic. Fuck ramen.
Review: Hey let's take away the political nature of Geass, the mechs, and throw a bunch of other half baked power people into a student council. That sounds like a good idea right? No it does not, because that's a stupid fucken idea. I mean this is like if Death Note was about a retard and some jerks mucking it all up. Also I've said this before, but fuck every student council anime forever.
Date Added: 07/05/15
+++++++++++++++++++++++++++++++++++++++++++++++
Name: Classroom Crisis (Lay-a-duce)
Subtitle: The "Anime: Ruining engineers since 1950" anime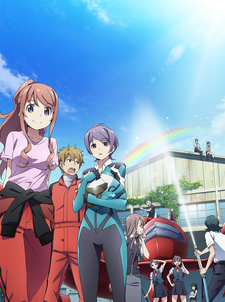 Initial Thoughts: show
Summary: A hostage situation, call Harrison Ford. You can't use the copyright mark as your personal copyright… IDGAF. No I am not interested. ALL THE MINES.THE X-2, give that back to the X-Men. A bit young to have a dream to train engineers. Oh my gawd I don't care. I just ignored the anime to complain about the storyline and how anime fails to understand that it can't just have a mysterious hostage with no context and expect us to care about said hostage – especially having never seen said hostage. TAKEOFF. OMG ASTEROID BELTS ARE NOT LIKE THAT IN REALITY. MY FINGERS ARE LIKE SPIDERS. You knew she would ignore you. And that ship is toast. UGH and we end without caring. UGH fuck the rich douche just shoot him.
Review: I don't give a damn about a single character, a single plot point, a single scene – this anime fails on every level of a story, and despite being something that wishes to be something of substance, that substance is the peach fuzz on rotted food.
Date Added: 07/04/15
+++++++++++++++++++++++++++++++++++++++++++++++
Name: Danchigai (Creators in Pack TOKYO)
Subtitle: The "We really need Ron Paul to save anime" anime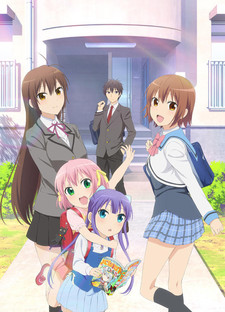 Initial Thoughts: show
Summary: What… He wasn't even touching anything? Older sister so boss. And already the end.
Review: Robert Marley: It was dumb! Jacob Marley: It was obvious! Robert Marley: It was pointless! Jacob Marley: It was… short! [beat] I STILL FUCKEN HATED IT.
Date Added: 07/12/15
+++++++++++++++++++++++++++++++++++++++++++++++
Name: Gakkou Gurashi! (Lerche)
Subtitle: The "This anime is anti-dog, I am anit-anime" anime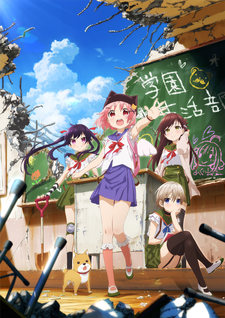 Initial Thoughts: show
Summary: I mustache you a question. Yo fuck you, dogs are the best. Your hat is dumb.  School life? KILL ME NOW. My dad has a shovel. Bored. Literally nothing is happening. SHOVEL! I mean shovels are useful. BEHOLD sempai power. I FUCKEN LOVE YOU GUYS. That got weirdly dark. Uhh zombies? Oh this is that anime.
Review: For those who like high school of the dead, but felt it should be less about violence and physics (plot) and more about cute girls who chatter forever, because honestly I think at this point anime nerds really only like these kinds of animes because they just want to know what girls are talking about, and hear their voices since they lack that in real life.
Date Added: 07/12/15
+++++++++++++++++++++++++++++++++++++++++++++++
Name: Gangsta (Manglobe)
Subtitle: The "This is a contradiction because anime is the opposite of Gangsta" anime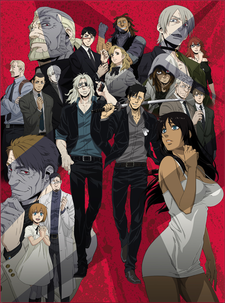 Initial Thoughts: show
Summary: Okay you are trying to be Black Lagoon here, but you are not. EGGS. RIGHT IN THE FACE. THE CHAD. Penis bittings. Dat cat.  THE CHAD. Some gangster shit. THE CHAD. And the raping. BUTT. Gonna be an eyepatch hero. BLOOD! Why is a dogtag so badass? HOLY SHIT. And he slices your fingers. HEY HEY HEY. NIC CAGE. CHAD! FUCK THE POLICE! Oh my god it's over the anime that wants to be Black Lagoon too much.
Review: THE CHAD IS GREAT. Now for those who want a real review from me, too bad I'm going to continue to make dumb jokes to mask how dead I am inside because of anime.
Date Added: 07/04/15
+++++++++++++++++++++++++++++++++++++++++++++++
Name: Gatchaman Crowds Insight (Tatsunoko Productions)
Subtitle: The "Like I just wish this anime could choose between social constructs or power suits." anime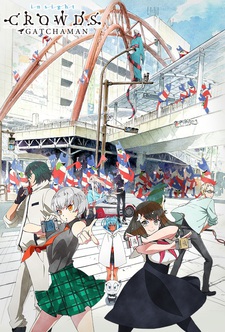 Initial Thoughts: show
Summary: HA! Relax, don't do it. Aliens! They can teleport? It's a smoke being. Nope still be scared. PUT IT BACK. Fucken revolutions, eat shit prime minister. World peace what a loser. Wait does it literally not move, or is it just really slow. Like seeing thoughts is kinda rude. That house looks familiar – bitch it's yours. FUCKEN JJ. PHBBBTT.
Review: Once again this isn't terrible, but I just don't get all the people who really like this show. I mean at least they are going to deal with how terrible an idea it is that people can control beings of sentient energy.
Date Added: 07/05/15
+++++++++++++++++++++++++++++++++++++++++++++++
Name: GATE (A-1 Steaksauce)
Subtitle: The "This anime is a patchwork scrapbook of bad ideas." anime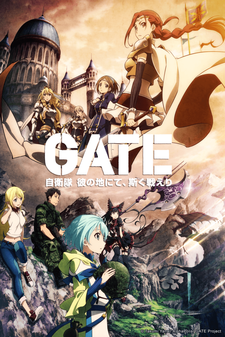 Initial Thoughts: show
Summary: They may take our land– Oh so he's a drain on society. SIGH. Meanwhile modern pay-to-win games. MOAR RESEARCH! OMG I don't care. Amount of people who care about a doujinshi event = Nobody. DID he just kill a dude? Like I know you're not America but you still have guns. Like honestly if you have guns how are enemies coming through a problem? I doubt it. Nothing says I'm a commander like a Hitler stache.
Review: Literally a gun turret would solve problems, did we forgot that gun turrets are a thing? Is this some dystopia where gun turrents never came into being? I know it seems like I'm harping about how stupid this is, but the problem is when your show (even if it's meant to be mindless fun) is so stupid that it takes me out of it – you have failed as a show, and I do not wish to watch you.
Date Added: 07/04/15
+++++++++++++++++++++++++++++++++++++++++++++++
Name: Hetalia – The World Twinkle (Studio DEEN)
Subtitle: The "6 Million people died." anime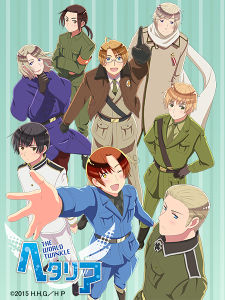 Initial Thoughts: show
Summary: 38 seconds of logos. No. I cannot deal with this. Suddenly an anime about moe-fying WW2 countries has now devolved to cats. Uhh wait the G8? CHINA! Wait that was it? God deserves to noah's ark mankind right now.
Review: This was literally a show about cats representing WW2 countries. Like you have to reevaluate mankind's accomplishments.
Date Added: 07/05/15
+++++++++++++++++++++++++++++++++++++++++++++++
Name: Himouto! Umaru-chan (Dogakobo)
Subtitle: The "Please do not feed hamsters steak, they will acquire a taste for blood." anime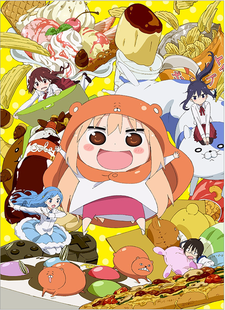 Initial Thoughts: show
Summary: Sorry but you can't call people perfect if they do no extracurriculars, high school taught me that. Such bullshit. She's devolved. They're hamsters. They do not want steak. And he realized. What. Skip! So good and then the blob returns. Soda logic. Mistake. YOU DEAD. Stuff. YOU STILL DEAD.
Review: Creator of Manga/Anime – I want to draw a little sister lazying about because she's so perfect outside, but around ME it's daw, but oh no I can't draw that much cuteness without fapping. I KNOW. I'll make her devolve into an actual moe blob – that'll be perfect.
In short – I hate Japan.
Date Added: 07/12/15
+++++++++++++++++++++++++++++++++++++++++++++++
Name: Jitsu wa Watashi wa (TMS Entertainment)
Subtitle: The "Seriously anime protags should just carry around monster fighting gear." anime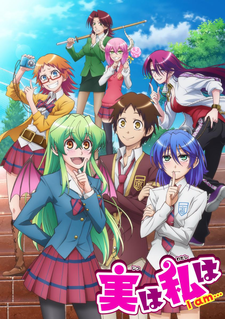 Initial Thoughts: show
Summary: And he has the wrong room.Does he just vomit. OMG so garbage. Oh hey can't lie. Omg so bored. Uhh but you all knew about it. Eat shit. Oh so he saw demon wings. SURPRISE VAMPIRE! Now you fucked up. I am shit at lies, but sure I can keep this one. Let's be friends?
Review: This is a shitty rip-off of Rosario Vampire, and that is quite possibly the meanest thing I have ever said.
Date Added: 07/07/15
+++++++++++++++++++++++++++++++++++++++++++++++
Name: Joukamachi no Dandelion (Production IMS)
Subtitle: The "OMG so embarrassed [public upvotes furiously]" anime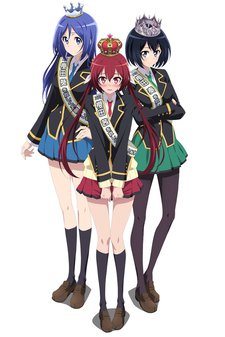 Initial Thoughts: show
Summary: Big family fights over 1 bathroom. Why does he have a crown? Oh that's why he had a ton of kids. So skittish. CAMERAS! Stupid plot devices. She also has super powers? Face down ass up. Shoehorned exposition. Power montage. Derp, Gross. Bored. That – actually makes sense.
Review: I apologize if the reviews thus far have been lackluster, but honestly this is an example of why I am so fed up with anime. Simply put this has all of the 'pieces' it feels it needs to exist, but it fails to really have any sort of story of substance. I understand the nature of light hearted fun – but quite frankly this isn't fun, and most animes like this never fucken are.
Date Added: 07/07/15
+++++++++++++++++++++++++++++++++++++++++++++++
Name: Kangoku Gakuen Prison School (J.C. Staff)
Subtitle: The "I fucken hate the work Gakuen" anime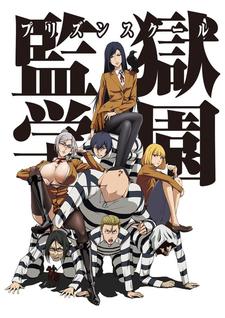 Initial Thoughts: show
Summary: Eat shit patriarchy. Rotating dudes. Eggfirm – well we're saved now. YOUR FACE IS TOO SMALL. Sigh. PACHINKO! Lies. Sigh BLOOD! THANATOS! PUSH THEM. Then this was a thing. KILL THEM. EAT SHIT.
Review: This exemplifies the so called masochistic herbivore Japanese men characteristic, and yet somehow drops panty shots like it's going out of style. In short this is female empowerment imagined by men in order to make it appear as if they have power, but will ultimately succumb to the power of boners. Please watch if you are a sick freak.
Date Added: 07/12/15
+++++++++++++++++++++++++++++++++++++++++++++++
Name: Kuusen Madoushi Kouhosei no Kyoukan (Diomedea)
Subtitle: The "Anime doesn't deserve to be saved." anime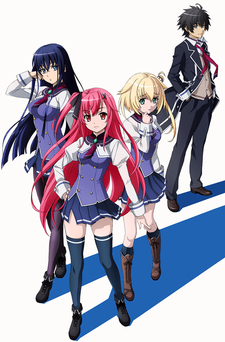 Initial Thoughts: show
Summary: BORED. PPPPHHHBBBTTTTT. Holy shit I don't care. Fucken Nirvana man. Oh no, you ruined her toast, how terrible. OMG so bored. So dumb. This is literally the dumb. Well that was a huge waste of my time.
Review: I watched this. I can with certainty say that is a fact, a science fact. However I remember none of this. I know it was a few hours ago, and trust me it's not because I was in a drunken stupor and forgot things – this anime is simply so forgettable, boring, and stupid that my resting mind decided to simply delete it from my life.
Date Added: 07/12/15
+++++++++++++++++++++++++++++++++++++++++++++++
Name: Miss Monochrome S2 (TBD)
Subtitle: The "I don't know why I forgot about the auto-tune." anime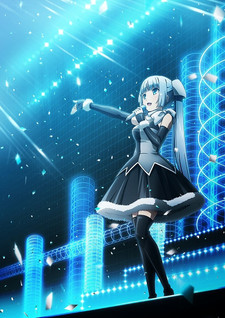 Initial Thoughts: show
Summary: PBBBBHHTTTTT. ROOMBA! Idol weather? Not a fan. This roomba is given too much non-real shit. This is really dumb. And she wants to add more songs which fucks up the plan. And then the show ended.
Review: More roomba, less idol, please.
Date Added: 07/04/15
+++++++++++++++++++++++++++++++++++++++++++++++
Name: Monster Musume no Iru Nichijou (Lerche)
Subtitle: The "Otacon! Snake! Otacon! Snake!" anime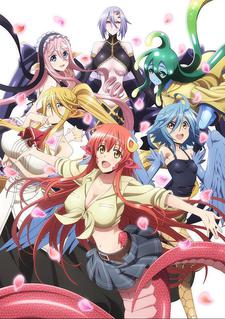 Initial Thoughts: show
Summary: He's like wtf. Snake rape. Then he died. And she literally just orgasmed. BIRD BIRD BIRD BIRD IS THE WORD. IMMA KID IMMA SQUID. SPIDER! Boobs. HEAD BANGING. Fucken handler. Rice bowl, not a termite mound. YOU'VE GOT GENITALS. That went into a thing real quick. And you broke his shoulder. Going on a field trip, a field trip, a field trip. Sigh. PHHBBBTT. Then they end up in a lo- dammit I couldn't even finish the thoughts. #sigh. Twitter. Okay that punch redeemed like ⅓ of the show.
Review: If I was a more paranoid fan I would think this show was greenlit because the producers are in contact (or art themselves) doujin artists looking to sell massive amount of copies to half baked furries who aren't really into pandasex, but sure lets give this chick a tail. As for the anime itself it is at best a slightly unique spin on the atypical harem show because of it's niche – but with all the aliens/demons/sucky-sucky-bi that particular oddness itself isn't terribly novel. There is a certain kind of person this show is for, and that's fine. I just happen to fucken hate those people.
Date Added: 07/08/15
+++++++++++++++++++++++++++++++++++++++++++++++
Name: Non Non Biyori Repeat (Silver Link)
Subtitle: The "Repeat – I feel asleep can someone confirm if exactly the same as S1?" anime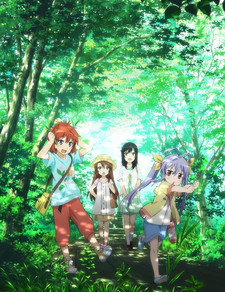 Initial Thoughts: show
Summary: Omg who cares about grade school kids (I mean other than Japan) Mhmm strawberries. OMG I hate kids, even moreso in anime. Holy shit I fell asleep. FUCK DA POLICE. MY PARENTS ARE DEAD. BAD SINGING CHILDREN. Oh great a fucken recorder.
Review: I understand why people go watch Michael Bay films now.
Date Added: 07/07/15
+++++++++++++++++++++++++++++++++++++++++++++++
Name: Okusama go Seitokaicho! (Seven)
Subtitle: The "Like honestly how easily she accepts this is sexist right? Right?" anime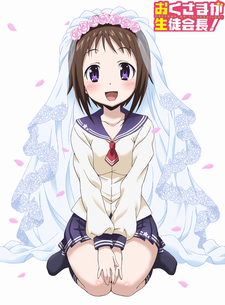 Initial Thoughts: show
Summary: Here have some condoms. DAT ASS. SHE GOT DA BOOTY. Whoa fucken harsh. Ok… Alrite. What. Huh. You aren't married yet. Sigh. She's not going to give up. Uhh that turned into a thing.
Review: I should have listened to my initial thought, because I did not want to see a show where a dude tries to scare a girl away from his bed by sucking her tit.
Date Added: 07/05/15
+++++++++++++++++++++++++++++++++++++++++++++++
Name: Overlord (Madhouse Studios)
Subtitle: The "You require more overlords" anime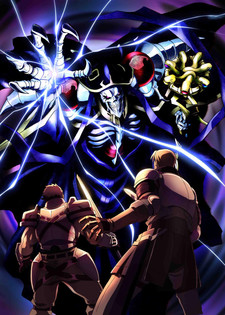 Initial Thoughts: show
Summary: Yeah you would have made a snappier acronym. This looks basic as fuck. FInally the skeleton wars. This anime is about skeletons – 2spooky4me. And I'm bored. Let the game die. My god. Like this better be building to something cuz holy shit boredomsauce. They moved to a speaking input. Whoa. Anime. You have not made an observation that you exist in a game.
Review: I am in fact a skeleton now, because this anime bored me literally to death. It then kept getting more and more boring such that maggots in an attempt to grab food and leave ate my body clean in 7 seconds. All that's left now is me – the skeleton, king of bored bones.
Date Added: 07/08/15
+++++++++++++++++++++++++++++++++++++++++++++++
Name: Ranpo Kitan: Game of Laplace (Lerche)
Subtitle: The "I was not expecting lap lace to be literal here." anime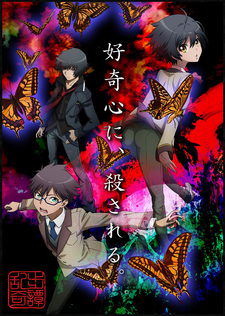 Initial Thoughts: show
Summary: SPOOKY SKELETONS. Uhh why do I have this hacksaw – oh because I just serial killed my teacher. Oh man that character just got unlocked. Teacher is way too bubbly. Uhh she cuts herself. Detectiveness. SimCity is so important. Can't the government just give you a diploma instead. Fucken blood knight. Honestly you just want exposition with shitty management of showing it. Okay that's a bit strange.
Review: It's really weird that the characters are all grayed out and get weirdly unlocked. Mostly though this was just stupid in the sense of how played out the story is (yes I know it's from a much older book, but then don't adapt that). Sorry but this whole underage detectives, people who are only excited by the thrill of the mystery, some large framing crimes. The problem like I said is that this has been so well used the only interesting thing is the fact that the guy makes chairs out of people, and then I realize how jaded that sounds and I go back to my drinking.
Date Added: 07/05/15
+++++++++++++++++++++++++++++++++++++++++++++++
Name: Rokka no Yuusha (Passione)
Subtitle: The "Why is it always some young d-bags killing demons, why not like Constantine or something" anime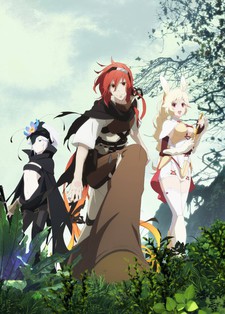 Initial Thoughts: show
Summary: Ziggurats. Stuff. Strongest man alive. BOMBS! I'm so badass. Then a mob happened. AHHH SVENT YA. Secret training. Princess won. So fucken cocky. Like he's so cocksure. Potato. Yeah maybe. OH SHI- IMMA A BRAVE. That's a lot of swords. We're going on an adventure.
Review: Strongest man alive, get captured almost immediately – yeah that story does not hold up. Also my lack of commentary above is indeed because I was bored because really this was about some time passing while our dbag was in a cell. In short it was not a strong first episode and certainly was not giving you a sense of 'hey I want to watch this.' and you know what I don't.
Date Added: 07/05/15
+++++++++++++++++++++++++++++++++++++++++++++++
Name: Senki Zesshou Symphogear GX (Satelight)
Subtitle: The "The problem is the phrase fuck this noise makes people think you care about this show." anime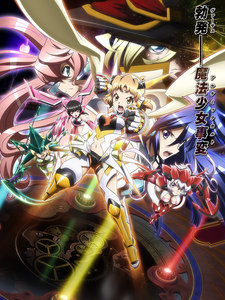 Initial Thoughts: show
Summary: And here comes the fucken singing shit. This is not a Megadeth Symphony. Update on mountain sizes. TOO BAD. Uhh lesbians. Sigh. Ugh I know London, and let me tell you why this shot is bullshit. Yeah that stadium would not exist, there is too much traffic on the Thames. Kiss of death. IMPALER! Burn baby burn. Eat shit
Review: This anime literally blew up a mountain, and I was just falling asleep at how bored I was with this shit. The stupid singing, power suits, bickering – I mean goddamn people you want me to believe they can have skating shit on the Thames and have me no think you lack a real story and are just doing things. Like this is what S3 – I mean it's a GX in the name, and that's never a good sign. Just stop anime, you're done – move along.
Date Added: 07/05/15
+++++++++++++++++++++++++++++++++++++++++++++++
Name: Shimoneta to Iu Gainen ga Sonzai Shinai Taikutsu na Sekai (J.C. Staff)
Subtitle: The "I mean seriously I would be shot by some muthafucka for saying the word muthafucka" anime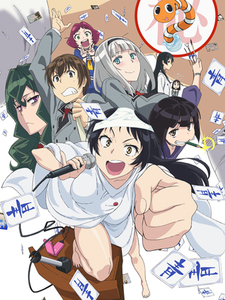 Initial Thoughts: show
Summary: SO hot, hot damn. A fucken swat team for indecent words? So they are Nazi's right? Uhh that's fucken fascism. Huh. OMG a society like this would not exist. Fucken pervert terrorist. Uhh. Yo he turned in 3 seconds. Like honestly people men will always get boners, the idea of banning all this shit just would not fly. Wait 4? DOCKING. i DON'T EVEN KNOW ANYMORE. Seriously what the fuck.
Review: Listen Japan, I know you have some baby problems – I mean you made an anime about how to form relationships and then bone. However showing us a world where there is a literal though police for dirty thoughts – you cannot have said world and get away with what you're doing here. Sorry but a pervert high schooler terrorist isn't something you can have and thinks some dirty jokes will make it light hearted. You start this shit with a swat team over dirty magazines – I'm sorry but the world is fucked, and you are straight up dystopia.
Date Added: 07/05/15
+++++++++++++++++++++++++++++++++++++++++++++++
Name: Sore ga Seiyuu! (Gonzo)
Subtitle: The "I have pulled out belly button lint more interesting than this fluff." anime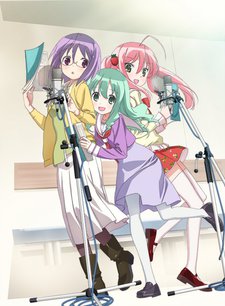 Initial Thoughts: show
Summary: Pi. How about no. This bitch talking to herself is cray cray. I do not care for this story. Yeah we got it. My gawd this anime is dumb. Stop greeting people. And there it is, they somehow got a schoolgirl in this show. Editing! Animation shittiness. SO LOUD. That feels sexist. Like there was an anime that showed early screens of early screens. Okay now you are being a dick.
Review: For a brief few minutes I applauded Japan for doing this anime, and not having something dumb like they're all high schoolers. The anime then made 1 of the VA's a middle schooler, and that's a good thing. Because it reminded where I am, and why I should never trust anime. It reminded me why I hate this medium, and the cunts who work in it. Because I know there was a meeting and some jackass brought up the topic and convinced others that this anime needed a VA that was somehow in school and could therefore be in a school uniform.
Date Added: 07/08/15
+++++++++++++++++++++++++++++++++++++++++++++++
Name: To LOVE-Ru Darkness 2nd Season (Xebec)
Subtitle: The "Why is there like 5 seasons of this shit?" anime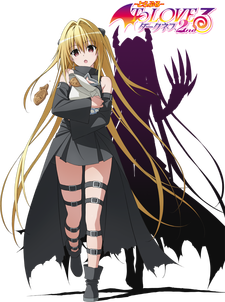 Initial Thoughts: show
Summary: That is not a possible body shape. Stop eating the tail. How about don't eat my tail. SIGH. My sister just had a rant about dyed hair color, whilst ignoring the tails and hence aliens. BUTTFACE. Buy-the-DVD-censorship. I am now explaining what I know of previous ToLoveRu to my sister, and she is disgusted/displeased. I LOVE SPACE. Underage drinking. Omg what is this? And I quit.
Review: If I were to watch this I would legitimately give it a -10 on a 0-10 scale in my excel list. However that's a lie because I would have died by shooting myself in the head with the biggest gun I could find first.
Date Added: 07/07/15
+++++++++++++++++++++++++++++++++++++++++++++++
Name: Ushio to Tora (MAPPA)
Subtitle: The "Imagine if Bayonetta was a shitty anime dude." anime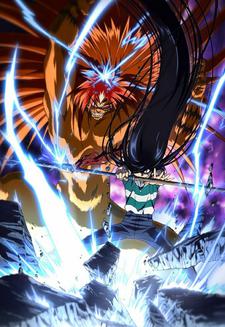 Initial Thoughts: show
Summary: Lol you've not even showed it him? Ahh family abuse. It's clearly the door to the spear he won't shut up about. BREAK THE WALLS DOWN. Previously on Naruto. Tough sell. Fucken eat that bun. Dumbass. DEMONS! DERP. HAHAHA. Eat shit. They ded. Duh. OH SHI- I have the power of hair extensions. CHINA! PLOTTING!
Review: Honestly the single thing making this different than any other anime is the nice sorta throwback art style, and that is not enough to carry an anime. Listen we didn't love Casshern Sins purely on art, it had good characters, plotting, and pacing. Also based on that opening the term to remember here is fucken busy because holy shit you do not need that much character, settings, and baddies.
Date Added: 07/07/15
+++++++++++++++++++++++++++++++++++++++++++++++
Name: Wakaba * Girl (Nexus)
Subtitle: The "I'm fairly certain this causes cancer." anime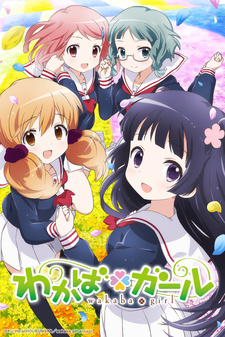 Initial Thoughts: show
Summary: Oh my gawd I am not okay with this show, mostly because I am not a lesbian, and I REALLY do not care about school girls shit in anime. The english translations is fuck you. This is a combo of the worst things in anime.
Review: This show was short, and yet it's part of the reason I have a hangover right now. In the words of the poets Bowling for Soup – this is a hangover I don't deserve, and by extension this anime doesn't deserve to exist either.
Date Added: 07/04/15
+++++++++++++++++++++++++++++++++++++++++++++++
Name: Working!!! (A-1 Steaksauce)
Subtitle: The "3 Seasons and there's really only 1 chick working." anime
Initial Thoughts: show
Summary: Just punch him. FPS Anime. God fucken tiny things. My sister would like to remind everyone that the kitchens in this anime do not reflect real life in any way. Bored. God this is so dumb. Hold me closer tiny sempai. No don't do that. YO Free cat, wait whut? Can you be my mom? So old. Yo buddy. And she's gone.
Review: This anime did not really need a second season, and it needs a third even less so. I'm sorry but if I've said something once it's that you need to know when a joke is over, and you should move on. The problem is that when you already have a set piece for jokes it's too easy to fall back onto that set rather than building a narrative around it.
Date Added: 07/05/15
===============================================
My final thoughts? I'm giving up on anime.